Atlanta
In February last year, tech giant Microsoft sent shockwaves through Atlanta economic development circles by confirming its plans to convert 90 acres of Westside land into an innovative jobs center with affordable housing, consuming a site more than four times larger than Centennial Olympic Park.  
Since then, it's been crickets.
That's now changed, as Microsoft has announced its planning team and first steps toward moving the potentially neighborhood-altering project forward, with a heavy emphasis on community engagement from the outset, according to Microsoft.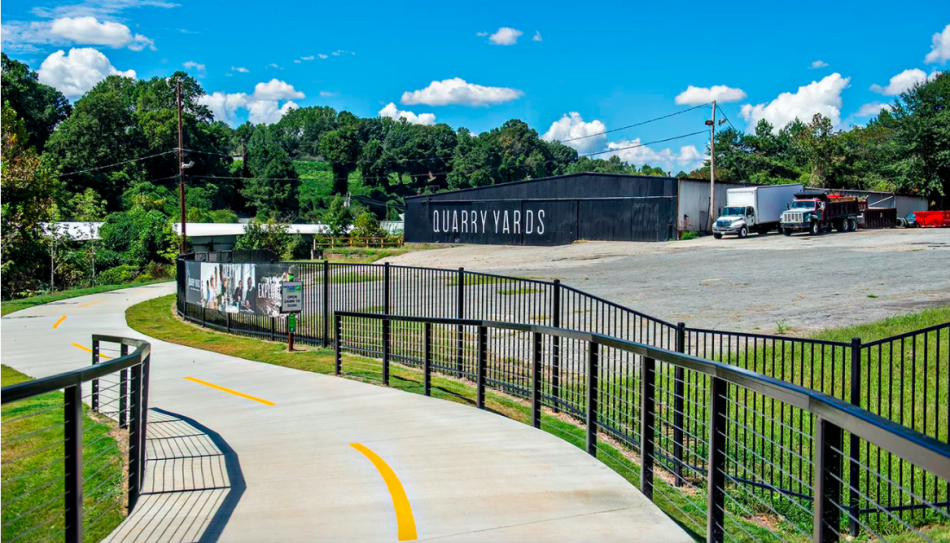 Where the Proctor Creek Trail begins on site, near MARTA's Bankhead station.Courtesy of Jonathan Phillips; 2018
Microsoft hasn't detailed what the Westside campus—located at the doorstep of MARTA's Bankhead station, where a mixed-use conversion is planned—will specifically entail. It's part of a broader effort to build Atlanta into a U.S. hub of datacenters and tech jobs. In its recent announcement, Microsoft described the Westside plan as a "multiyear project" that will aim to positively impact the area "through the creation of new office space, public amenities, and infrastructure."
Beginning this month, Microsoft's project planning team will host community visioning and listening sessions. Plans also call for the team to join local neighborhood association meetings—in Grove Park, Center Hill, and Howell Station, among others—and Neighborhood Planning Unit meetings in the area. The overarching goal, per Microsoft officials, is to "connect with residents to create an informed site design."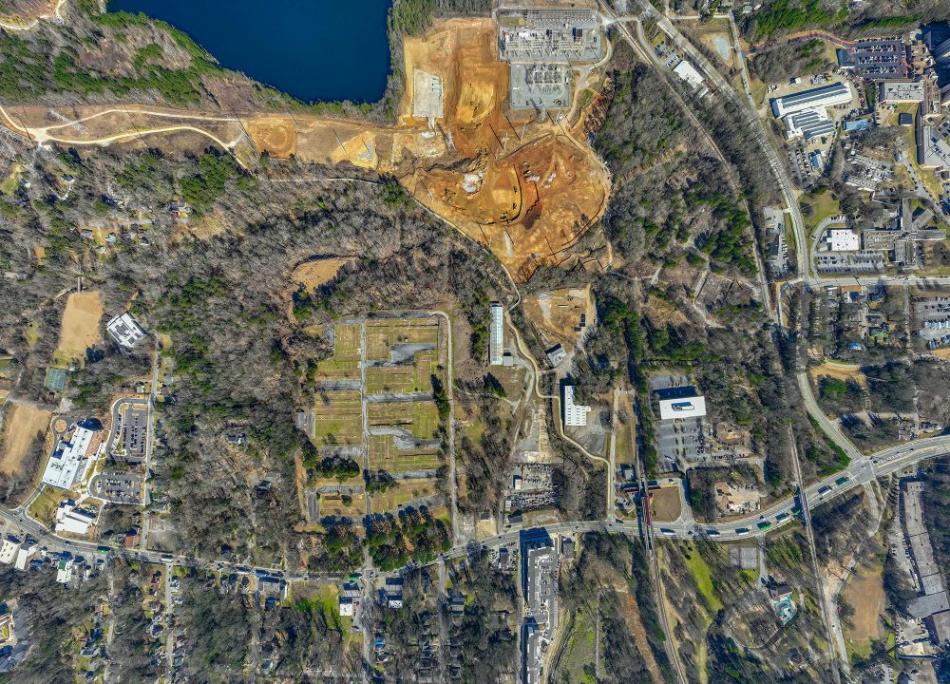 Microsoft's acreage, at center, next to ongoing Georgia Power construction and MARTA's Bankhead station. Courtesy of Microsoft
Microsoft also plans to host three open town hall events this year, beginning in June, as a means to "help ensure transparency and understanding around how feedback is being used to inform campus plans," according to a press release.
Locally, Microsoft's planning team will include architecture firm Cooper Carry, urban planning consulting firm APD Urban Planning and Management, market research consultants Noell Consulting Group, sustainability consultants Transsolar, and JLL for program management.
Developers with the Integral Group are being brought aboard to consult on real estate impact projects in the community, per Microsoft.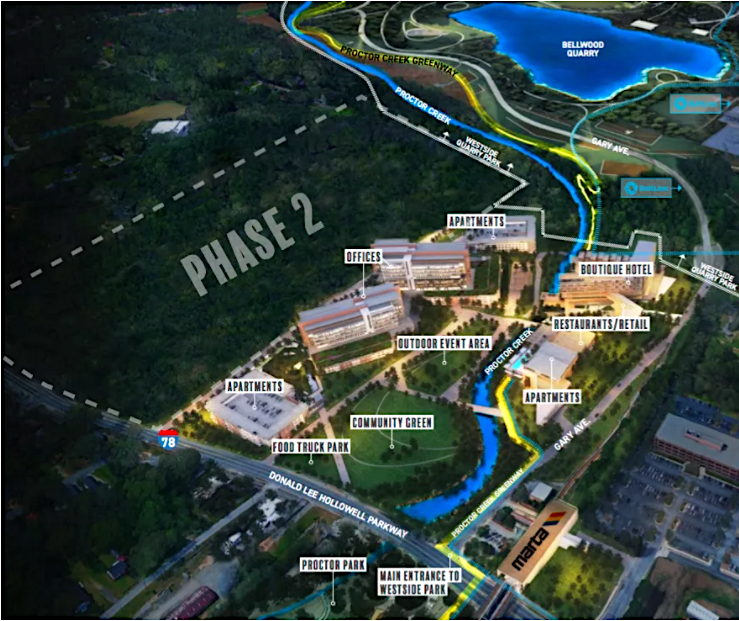 This early rendering for the Quarry Yards concept lends an idea of the property's scale and proximity to the Bellwood Quarry greenspace.Urban Creek Partners/Quarry Yards
Microsoft's future intown Atlanta home base is planned for the former site of the Quarry Yards proposal near Grove Park.
The formerly industrial area is home to dilapidated buildings, sites where residential development faltered in decades past, and the PATH Foundation's scenic Proctor Creek Trail, which opened in 2018, all located about three miles due west of the Fox Theatre. When Microsoft announced its 90-acre campus plans, the company described the area as "one of Atlanta's most economically distressed neighborhoods."
Much has happened since that announcement. The first phase of 280-acre Westside Park—Atlanta's largest greenspace—opened nearby to inexhaustible fanfare last summer. Georgia Power has begun a major expansion and substation construction at a site next to Microsoft's acreage. And closer to Midtown, Microsoft has completed construction of its Atlantic Yards complex at Atlantic Station, which is expected to eventually bring in 1,500 jobs.
Microsoft has stressed that 25 percent of its Westside campus will be dedicated to affordable housing and "other key community initiatives." Company leaders vowed in 2021 to listen to input from local communities, invest in STEM education, and value the "talent pipeline" from public schools in the area, the Atlanta's HBCUs, and Georgia Tech, a proven magnet for tech employers.   
"Our priority is positive, local impact," Michael Lawings, Microsoft's senior director of Americas Real Estate Operations, said in a prepared statement. "From the inclusive hiring of local vendors to jobs and affordable housing created for the region, sustainable building solutions, and much more."
• Confirmed: What Georgia Power is building next to new Westside Park (Urbanize Atlanta) 
Copyright © Urbanize Media LLC 2022